James Hardie® is one of the most reputable siding manufacturers in the industry. It takes pride in its patented technologies that enable the company to produce superior products that will last for several years.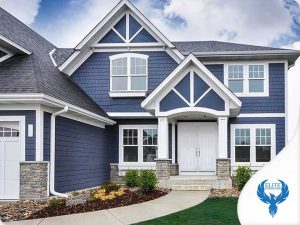 One of James Hardie's notable innovations is the ColorPlus® Technology, which is essentially a type of finish applied exclusively on James Hardie siding products inside a controlled environment, such as in the factory. The result is a flawless finish that's difficult to achieve if done manually.
In this post, top-rated siding and roofing company Elite Construction & Roofing lists some of the best reasons to choose James Hardie siding with ColorPlus Technology.
Superior Color Payoff and Longevity
The color payoff is impressive because the application is even and flawless. The color itself can also last longer because it is applied with a baked-on technology. It can also resist harmful UV rays, so you can expect your James Hardie siding to look vibrant and brand new for years to come. Frequent repainting is unnecessary since ColorPlus Technology prevents the color of the siding to fade quickly.
Less Messy During Installation
Paint spills are no longer a risk because the siding already comes with your desired color or finish. This means less hassle for you and the workers since you no longer have to worry about getting paint on your outdoor furniture, deck, shrubs and plants, and other areas or items in your outdoor space.
Requires Less Work
Much like a roofing contractor, a siding contractor will likely charge a higher labor fee for more extensive work. Since your siding is already primed and painted, the installation process becomes shorter and simpler. That said, depending on your chosen contractor, you might be able to save a few bucks on labor expenses. Apart from that, you can also expect the project to be completed more quickly.
Not Dependent on Weather
You no longer have to consider the weather to ensure the proper curing of the paint. Typically, installers wait for good weather before applying paint on the siding. But with ColorPlus Technology, your James Hardie siding will already come pre-painted, so the weather will no longer be a major factor to be considered.
Elite Construction & Roofing is a trusted siding and roofing contractor with over 15 years of experience in the industry. We have expertise in various types of roof systems, siding, windows, and paint, so you can rest assured that your project will be in capable hands. Call us at (720) 712-1870 or fill out our contact form to request a free quote. We offer our services to customers in Lakewood, Thornton, and Westminster, CO. And we also serve the Denver Metro area and the entire Front Range of Colorado.