End Your Roof Repair Near Me Search Now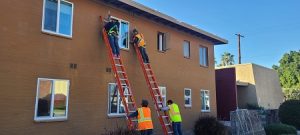 Your roof goes through a lot, from heavy rains and freezing temperatures to blistering heat and strong winds. So, when you have missing shingles, leaks, or other damage, you know it's time for a repair. But finding a roofing company that you can rely on can be difficult. Some companies offer free roof inspections and then charge you a fortune for their services; others promise reliable roof replacements that fail within a year.
At Elite Construction & Roofing, we provide a wide range of residential and commercial roofing services for flat roofs, metal roofs, residential roofs with asphalt shingles, and more. Our team of elite roofing experts has years of combined experience to ensure whatever roofing project you need to be done will be handled with precision and excellent customer service.
We Provide Roof Storm Damage Repair and Roof Leak Repair
Your roof is one of the most essential parts of your home as it protects you from inclement weather and other elements, but even the best roof can be affected by water and wind damage. Strong storms can rip off shingles, cause branches to fall on your roof, or leave behind pine needles, leaves, and other debris to pile up in your gutters. These situations can lead to a leaky roof, affecting your walls, ceilings, insulation, and floors. A small leak might seem like a minor inconvenience, but if left unattended, it can worsen and cause mold growth, wood rot, and structural damage.
Extensive roof inspections done by a professional roofing contractor every few years or after major storms are the best way to protect your entire roof and home. An inspection will help identify any issues with your shingles, flashing, gutters, or other areas of your roof. At Elite Construction & Roofing, we are happy to provide reliable roof inspections for commercial property owners and residential roofing. Once we've identified the problem areas, we will provide you with a detailed report on what we found and advise you on the best course of action.
Your Local Roof Repair Company Is at Your Service
Roof damage can lead to serious problems like leaks and mold growth which could cause structural damage or health issues for your family. You don't want to wait until it gets worse because the longer you wait, the more expensive repairs will be. Preventative maintenance starts with regular, comprehensive roof inspections and reliable repair services. It's our goal that all of our residential and commercial customers leave with peace of mind knowing their property is safe from water damage and other hazards that come with a damaged roof.
Our Roofing Repair Team Will Come to You
Comprehensive roof repairs don't have to cost an arm and leg! Our team offers affordable roof prices on all roof types, including metal roofs, flat roofs with TPO roof installation, and asphalt shingle roofs– whatever you need to be done, we are here for you! We understand how important it is for home and business owners in Denver to get quality work at fair prices, which is why we strive to provide top-notch service without breaking the bank. Let us help make sure your home stays dry and safe by repairing or replacing your roof today!
Elite Construction & Roofing is the Best Roof Repair in Denver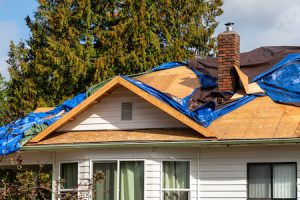 Elite Construction & Roofing is your go-to roofing company when it comes to all things roof-related. We are here to help with any and all of your roofing needs, from repairs and complete roof replacements to installations and maintenance. Our roofing team of experts has years of experience working on roofs of all kinds, including the following:
shingle

metal

flat

tile

slate

asphalt

and more!
With our extensive knowledge base, we can handle everything from minor damage to major catastrophes. You won't find another company that works harder or cares more about the quality of their work than us!
At Elite Construction & Roofing, we know how important it is for you to have a safe home environment which is why we strive every day to provide the highest level of service possible. If you want an expert team who knows exactly what they're doing, then look no further than us! When you need a residential or commercial roofing contractor, don't hesitate to give us a call! We will always be honest with you about what needs to be done so that there are no surprises along the way.