Roof Installation Company
Elite Construction and Roofing in Denver has experts that can help you with all of your roof installation needs. We take pride on making sure each customer is completely satisfied before the job is complete, which means we will do everything possible to adhere to any budget constraints or specific requests our clients have for their new roofs! Our team of professional roofing contractors understands the stress that comes with an investment in a new roof, whether it's for a new build or to replace a damaged residential roof. The placement of a new roof better protects the integrity of your building, and it helps prevent costly repairs and contracting projects down the line by protecting your building from water damage. Call us today for a free estimate for your roof installation!
New Roof Installation
No matter the type of roofing material, Elite Construction and Roofing has a team of experienced roofers who know how to work with tile, metal, asphalt, and more! We are GAF-certified and our roofers keep up with the latest innovations and trends in the roofing industry and applies that knowledge to our contracting jobs to ensure our customers' safety and satisfaction. The types of roofs we have experience with include:
Tile Roofs
Asphalt Shingle Roofs
Metal Roofs
Flat Roofs
PVC Single-Ply Roofs
Foam Roofs
TPO Roofs
and more!
Roof Repair Versus Roof Replacement
Sometimes it makes more sense to replace the whole roof rather than repair one section. Elite Construction and Roofing is a GAF-certified roofing company with highly-qualified roofing contractors. We will perform a roof inspection to assess your roof's issues properly, and then honestly express their opinion of whether you will benefit more from roof repair or replacement. Replacing a roof is not quite as arduous a process as property owners may think it is. Our roofers can replace your home or building's roof with minimal interference with normal day-to-day activities.
How Long Does a Roof Last?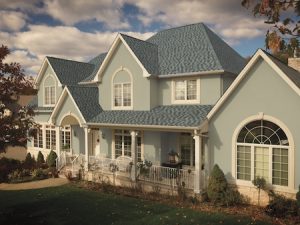 When considering roof repair versus roof replacement, property owners should consider the current age of their roofs. Most asphalt shingle roofs typically last twenty to twenty-five years with regular maintenance. Depending on the design of the roof, some can last up to fifty years. However, if your building's roof is more than ten years old and hasn't undergone regular maintenance and repair when needed, it may be more cost-effective to replace the roof rather than attempt extensive repairs.
The professional contractors at Elite Construction and Roofing can help determine whether the roof needs replacement or repair and what the costs associated with a new roof will be, without any sales tricks or hidden fees. Contact us through our contact form or give us a call today!
Roof Installation Service
For us here at Elite Construction, it's all about tradition, pride, excellent customer service, and craftsmanship. As a family-owned and operated roofing company, we draw on years of industry experience to provide you with expert roof repair and replacement services. We proudly serve Denver and the Front Range of Colorado, from Castle Rock to Fort Collins. Give us a call today for a FREE estimate at (720) 446-9633 or toll free at (844) 538-9813. You can also fill out our contact form to get in touch with us, and we'll get back to you right away.