Spring is often considered the best season to do some home improvement projects. However, this time of the year is also notorious for the amount of pollen in the air, which could cause problems if you are repainting your home. Since pollen can stick on various surfaces, it could affect the quality of your paint.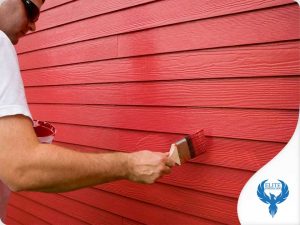 In this post, premier painting and roofing company Elite Construction & Roofing shares some tips on how you can paint your home without pollen affecting the quality of workmanship.
Home Painting in Spring: What's the Deal?
Although they are not visible, pollen from weed, grass and trees can be found in the spring air. These types of pollen don't usually accumulate on surfaces, especially if they only come in small amounts. However, in the case of pine pollen, you might have to be a little warry since this type of pollen is typically heavy. They can fill the air and be actually seen floating.
Pine pollen can also build up on any horizontal surfaces. So if you are painting your home during pollen season, make sure to anticipate the potential issues that can be caused by pollen. Take extra precautions so that you or your contractor won't paint over pollen that has accumulated on your home's exterior.
Home Painting Tips for Pollen Season
Even a roofing contractor will take extra care in working on your home during the pollen season. If you are planning on repainting your home in the spring, here are a few reminders to take note of:
Wash the exterior surfaces before painting, and be thorough in cleaning.
Remove dust on any horizontal surfaces prior to painting.
Consider using acrylic paint since it dries quickly. This gives pollen less chance of infiltrating the paint film and causing discoloration.
If you are painting your siding, you can breathe a little more easily since pollen does not usually accumulate on vertical surfaces. The amount of pollen that could potentially stick to your siding between washing and painting is often insignificant.
Elite Construction & Roofing is a local roofing contractor that also specializes in other areas of home improvement including siding, paint, windows, and gutters. We carry out jobs to a high standard, so you can get value for your money. Call us at (720) 712-1870 or fill out our contact form to request a free quote. We offer our services to customers in Lakewood, Thornton, and Westminster, CO. And we also serve the Denver Metro area and the entire Front Range of Colorado.