While many homeowners know that windows serve more than just give you a good view of the outdoors, it's the kitchen windows that really put a huge emphasis on versatility. That being said, we'll take a look at the crucial factors that have to be considered when choosing windows for your kitchen according to the leading window and siding contractor in the area.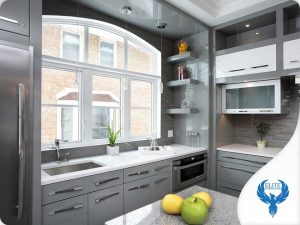 Available Space
The kitchen is one of the busiest areas of your home. The last thing you want is a window that gets in your way while you're doing kitchen stuff. If you're going for casement windows, make sure you pick ones that swing outwards. Sliding windows and double-hung windows also work great as they do not have any parts that stick out.
Ventilation
If there's one room that needs to be aired out, it's the kitchen. According to the leading window and siding company in the area, a kitchen window must be big enough to allow plenty of air circulation. This will prevent moisture from building up (especially around the sink) and prevent mold or mildew formation.
Style
Although the function is essential for a kitchen window, you shouldn't forget about the kitchen's overall style. After all, it's much more comfortable working in a good-looking kitchen. Window replacement experts say that some options such as double-hung windows are more suitable for traditional-style homes while sliding and casement windows with thin frames look better for contemporary kitchens.
Professional Construction Recommended
Picking the right people to install your kitchen windows is just as important as the actual windows. Window replacement contractors have the right skills and equipment necessary to install the window according to the manufacturer's specifications. This is why we recommend avoiding DIY installation or hiring unauthorized contractors for the job.
Get James Hardie Siding and protect your home from pests. Elite Construction & Roofing is the leading roofing contractor in Golden, Thornton, and Lakewood, CO. Call us at (720) 712-1870 or fill out this contact form to request a quote.