An occasional power wash can give your outdoor deck a thorough cleaning, perhaps even restore it if it's encrusted with mold or moss. In this blog, roofing contractor Elite Construction & Roofing discusses an overview of how to properly clean your outdoor deck using a power washer.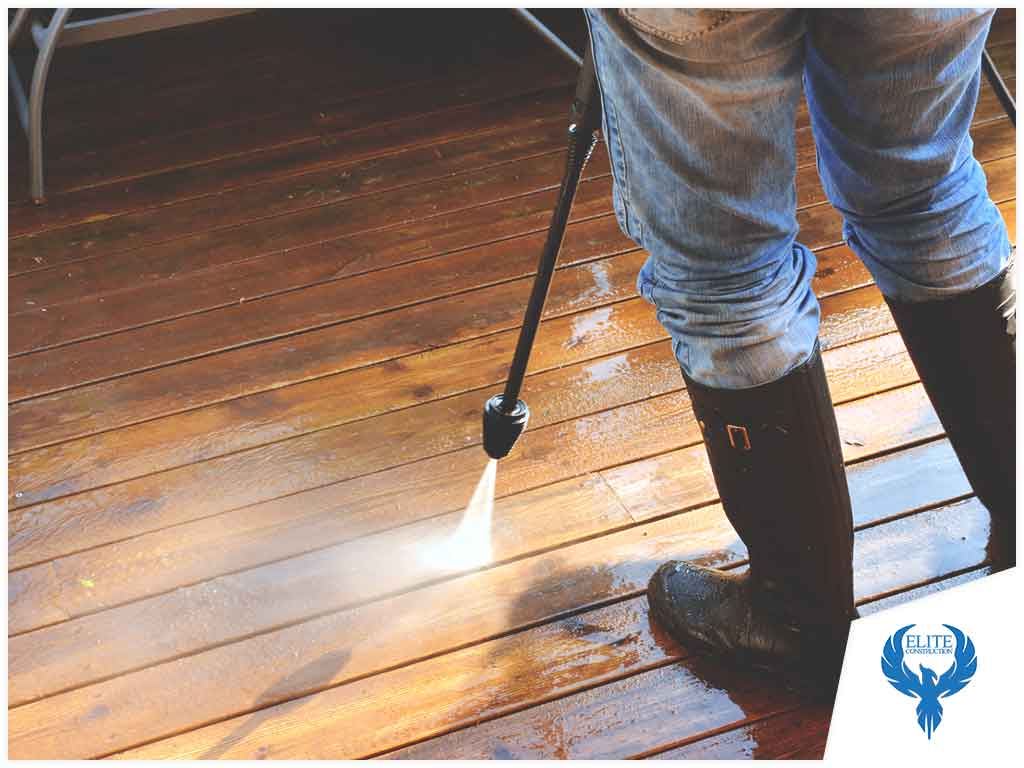 Preparations
You don't have to rent a heavy-duty power washer to clean your deck. Inexpensive power washers designed for residential use are perfect for the job. Before firing up the power washer, make sure you have given the deck a thorough sweep. If there is debris stuck between the boards, remove them using a putty knife or paint scraper. Inspect the structural components for rot and deterioration. If this is the case, hold off on the cleaning part until these areas are repaired.
Soap the Deck
Start the cleaning process by soaping the deck. Fill the soap reservoir with deck detergent, as instructed in the power washer's user guide. Connect the soap tip, typically colored blue, onto the wand. Spray the soap solution over the deck and let it sit for half an hour. As your decking and roofing contractor, we do not recommend using bleach or other harsh chemicals as the rubber seals in the power washer may get damaged. It could also harm surrounding vegetation.
Power Washing
First, choose the appropriate nozzle for power washing. You've used the blue (or black) soaping nozzle previously, so you'll need to switch to a white one for low pressure, green for medium pressure, or yellow for medium-to-high. Some power washers come with a red nozzle that creates a focused water stream and is designed for metal and concrete. Avoid using this as it could damage your deck.
Keep the nozzle at an average of six inches off the deck surface. If used too close, the green or yellow nozzle may gouge the wood or leave track marks. Work your way systemically to make sure you don't miss a spot. Once done, replace the nozzle with the white one and give your deck a final pass. Make sure to let the deck dry—which may take one to three days, depending on outdoor conditions—before you apply the waterproofing coating of your choice.
Elite Construction & Roofing is the decking and roofing company to turn to for all your home building needs. Give us a call at (844) 217-0506 or fill out our contact form. We serve customers in Lakewood, Thornton, and Westmister, CO.