Commercial flat roofs are more vulnerable to damage than conventional roofs. They're more exposed to solar heat and UV rays, which can break down the outer layer. Due to their low elevation, water tends to pond on flat roofs.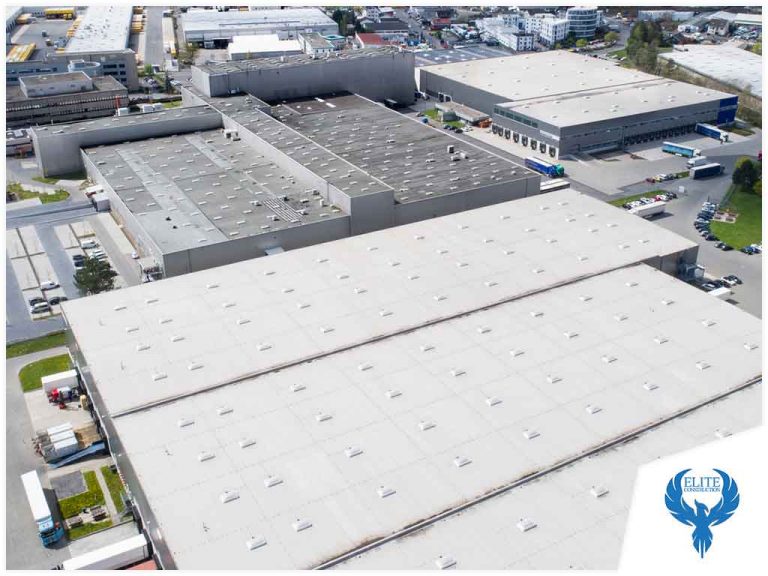 However, there is a way to reinforce and protect your flat roof—roof coatings. Elite Construction & Roofing, a top roofing contractor in the state, shows you how roof coatings can protect your flat roof against these elements as well as how to maximize their protection.
Longer Roof Lifespans
UV rays can alter and break down the composition of a flat roof's outer surface. Combined with heat absorption, UV rays can drastically shorten a flat roof's lifespan. Roof coatings reflect sunlight, preventing it from breaking down the roof's outer layers and your roof from absorbing heat. The result is an extended lifespan for your flat roof. Lower Power Costs
Savings on your power bill are a knock-on benefit of roof coatings. Less heat absorption leads to lower roof temperatures, which reduce the strain on your HVAC system and lead to lower power costs. Waterproof Surface
Apart from heat absorption and UV rays, moisture is a common problem for flat roofs. On a low-sloped surface, water can easily infiltrate your roof through even the smallest of gaps. Normally, sealants applied to the roof seams and the areas of your roof that meet the chimney would prevent the entry of water. But they can get easily damaged.
Roof coatings can protect your roof better than these sealants. Spread across the surface evenly, coatings can cover these gaps and create a seamless and waterproof surface. Maximizing Roof Protection
Keep in mind that there's a specific type of coating for each type of roof. By picking the right one and using a primer before the application, you'll maximize protection for your flat roof.
Asphaltic and tar-based coatings, for example, are suitable for coal-tar-pitch built-up roof systems. Meanwhile, non-asphaltic coatings, which include urethanes, acrylics and polyurea, are better suited to single-ply systems. A certified roofing company can help you find the right coating for your roof.
Looking for a certified contractor in your neighborhood?
Elite Construction & Roofing is a GAF® Master Elite™ roofing contractor and a winner of the GAF President's Club Award. For inquiries, call us at (844) 217-0506. Or leave us a message on this form. We serve homeowners in Lakewood, Thornton, and Westminster, CO.