According to deck construction experts, homeowners are more than free to build their decks no matter what time of the year it is. After all, home improvement is an endeavor that you can commit to all-year round so deck building is definitely something you can do whenever you want to. However, if you're looking for the best time of the year to get something like this done, experts say that you should look no further than late winter/early spring.
In this post, deck and siding company Elite Construction & Roofing discusses why late winter/early spring is said to be a great time to plan and build a new deck in your home.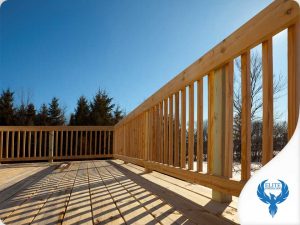 Weather
Late winter/early spring is one of the best times of the year to plan and build your deck if you intend to use natural wood to get the job done. This is due to the fact that the weather is a bit dry during this time, allowing the wood's natural moisture to dry out quickly and evenly, preventing the hot sun from beating down on it and damaging it earlier than it should be.
Less Demand for Builders
On the other hand, if you opt to get your deck built during this time of the year, you'll find that there's less demand for builders as not a lot of homeowners are keen to have home improvement projects done during the late winter/early spring seasons. This allows you to have your deck built at a time that's convenient for you as opposed to summer when you have to accommodate the contractor's schedule.
For assistance in constructing your deck, don't hesitate to turn to expert deck and siding contractor Elite Construction & Roofing to get the job done.
Material Discounts
Finally, you can also save a significant amount if you have your deck built during the late winter/early spring seasons. This is because there's a high chance that construction companies will be putting discounts on their materials to get rid of them as quickly as they could and make room for their incoming inventory.
Planning to build a deck for your home? Simply turn to Elite Construction & Roofing. When it comes to window replacement and deck construction projects, we are the leading pros to turn to and we won't let you down! Give us a call at (720) 712-1870 or fill out our contact form to get in touch with us and receive a free estimate today! We serve homeowners in Golden, Lakewood, Thornton, and other nearby areas in CO. We also serve the Denver Metro area and the entire Front Range of Colorado.