No doubt, it's far easier and quicker to just replace your windows on your own. You cut out the time to look for a reputable window or roofing contractor, shortlist them, and negotiate their rates. In some cases, it can even be cheaper! But at Elite Construction & Roofing, we believe that what money you save up front may actually haunt you later on during your window's lifetime.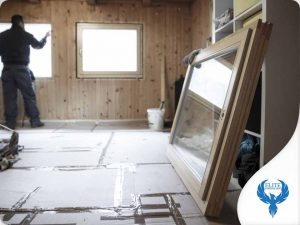 Here are a few reasons why you should leave window replacement to the pros:
Installation Issues
Replacing a window involves more than just shopping for a new window unit that matches your aesthetic, budget, or any other requirement. You also need to remove the old one, which isn't as easy as it looks, and loads of other measurements that require a high level of precision. For an amateur, it's easy to overlook some of these factors.
By contrast, a pro knows exactly what your window needs. Not simply just dimensions. At Elite Construction & Roofing, Colorado's premier window and roofing company, we have the expertise and experience to know exactly what needs to be done, and we can do it in a fraction of the time that you would have otherwise by relying on trial and error.
How Pros Can Benefit Your Window Replacement
There are plenty of benefits of working with a pro.
The most obvious is the money that you save in the long run. A window and roofing contractor is definitely more expensive than doing it yourself, but you are paying for a one-stop-shop. They have the tools, the experience, and the right know-how to do it. When you're replacing your window yourself, you're going to buy your tools piecemeal, and the cost of mistakes may be disastrous.
Which brings us to the second point: window replacement professionals are insured. This means that even if they do make a mistake, your property is insured, which means they can pay for it out of their pocket. Compare this to a DIY window replacement—when you make a misjudgment, you will be paying for repairs out of your own pocket, maybe even call a contractor yourself!
At Elite Construction & Roofing, we believe in making the most of your roofing and window replacement. Call us today at (720) 446-9433 to experience the professional difference. We serve residents of Lakewood, Thornton, and Westminster, CO. We also serve the Denver Metro area and the entire Front Range of Colorado.