In many homes across the U.S., siding isn't an option anymore—it's a requirement. Some use it to beautify their exterior, but there is an underlying reason for its widespread use. And it is its structural complement to the rest of your home, including insulation, protection and more.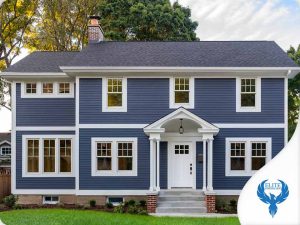 However, choosing the first siding product that you see is not prudent and cost-effective. Elite Construction & Roofing, Colorado's finest siding contractor, shares why prefinished siding is a great way to start your siding journey (or replace yours).
Prefinished Siding, Explained
First things first: definitions. Prefinished siding is a product that's made in the manufacturer's factory. This offers a few benefits, such as making a product in a controlled environment, thus leaving fewer opportunities for flaws. Some prefinished siding products, notably by James Hardie®, add other features as well, such as increased wind and humidity resistance and colors that don't fade regardless of climate or weather conditions.
Easy Installation
If you ask any siding company, they would rather install a prefinished siding product. And at Elite Construction & Roofing, we're the same. Since the siding panels are already treated and finished, it's only a matter of laying them out on your facade. Prefinished siding products are more practical and less time-consuming than their contemporaries.
Aesthetics Are On Point
Some siding products also need a touch of paint after installation, exacerbating an already tedious, messy process (see the section above). By contrast, prefinished siding has been coated with proprietary paint technology, resulting in a product that won't fade, chip, flake, or corrode in most conditions. This kind of siding is finished in factory-controlled environments, which removes external circumstances that may affect the quality of the paint.
Elite Construction & Roofing, your premier roofing, siding, and window replacement company, offers James Hardie prefinished siding in whatever project and demands that you require. To peruse our siding product catalog, you can reach us at (720) 446-9433. We serve residents of Golden, Thornton, and Lakewood, CO. We also serve the Denver Metro area and the entire Front Range of Colorado.