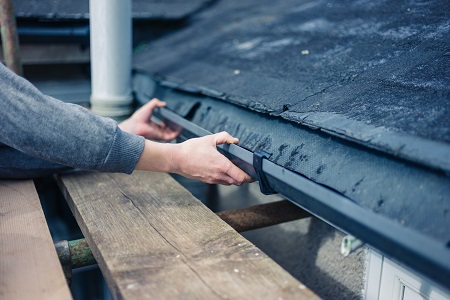 It's that time of year again! The leaves are changing color, and the days are getting shorter. Soon winter will be us, and with it, the cold rain and snow. One of the most important things you can do to prepare for winter is to winterize your roof. And Elite Construction and Roofing is ready to help!
In our new blog post, our professional roofing company from Colorado Springs will explain what steps you need to take to ensure your roof is ready for the cold weather. We will identify critical tasks and signs of wear and tear for gutters, downspouts, insulation, flashing and caulking.
Why Winterize Your Roof?
Your roof is one of, if not the most, critical necessities for any home, and we want to help yours last a long time. Most rooftops are recommended for replacement anywhere from 15 to 75 years depending on the type of materials and construction. Wood things can last up to 25 years. Asphalt shingles can last 30 years. The right metal roof will go for the full 75.
Replacing a rooftop constitutes a huge financial investment. Performing regular maintenance checks and winterization tasks can help extend this lifetime. By looking for missing shingles, sagging, mold, holes or dark spots, you can winterize your roof, minimize hail damage and extend its life and save money in the long run. So don't wait. Follow these steps or call Elite Construction and Roofing to winterize your roof today!
Where To Begin Your Roof Inspection
Your roof beats all year long from the sun, wind, and rain (and snow if you live in certain areas). But inspecting the roof involves more than just finding a ladder and walking around the rooftop, looking for loose roof shingles or tiles. Well, that is important, but it's also crucial to inspect the areas around your roof just as regularly and winterize them before the cold weather hits. Here are some key things to look for.
Gutters and Downspouts
The next step is to inspect your gutters and downspouts. Make sure that they are clean and free of debris. Leaves, twigs, and other organic matter can clog your gutters and downspouts, causing water to back up and pool on your roof. Signs of damage to gutters and downspouts include leaks, cracks, holes, sagging or separation at the seams. Leaks can lead to water damage on the exterior of your home, while cracks and holes compromise your gutter's structural integrity. If you notice any of these problems, it's vital to have them repaired as soon as possible.
Gutter Guard
Another item to consider is installing gutter guards. Gutter guards help keep leaves and other debris from clogging your gutters and save you money and time clearing out gutters and flushing downspouts. Elite Construction and Roofing can install gutter guards for you as part of our winterization services.
Attic Insulation
Inspect your attic insulation and make sure it is at least 3-4 inches thick. If it is thinner than this, you may want to consider adding more. Attic insulation helps keep heat in your home during the winter. You will also want to check your attic's venting to ensure it is not blocked by insulation.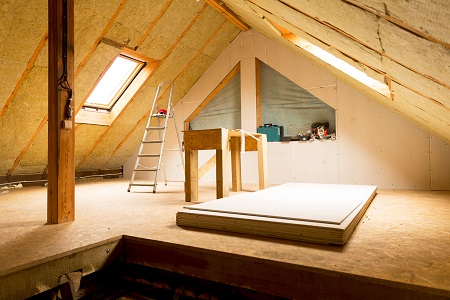 Flashing and Caulking
While checking the attic insulation and ventilation, verify any cracks or gaps in caulking or flashing. Caulking helps seal gaps and cracks around your home while flashing helps prevent water from seeping through the roof. It's essential to check both caulking and flashing annually to ensure they are in good condition. When caulking is overexposed, it can dry out and crack, creating gaps in the
Overhanging Tree Branches
Finally, take a walk around the property. Environmental dangers are just as significant as internal wear and tear. If you live near trees, look for any overhanging tree branches. Any branches that hang over your home could potentially fall and damage your roof during a winter storm or multiple days of increased weight. Trimming these back will be essential to ensure snowfall doesn't catch you by surprise.
Who to Call When You Need a Roofing Job Done Right
Elite Construction and Roofing are here to winterize your roof and prepare for winter weather. Being a homeowner, you can't always do the tasks you need to ensure your home stays in tip-top shape. We are the roofing company near Colorado Springs that residents and businesses can trust for new roofing installations, emergency roof repairs, roof replacements and roof maintenance!
Our roofing experts specialize in multiple roofing types. From asphalt shingles to metal roofs or flat roofs for residential and commercial roofing projects, our roofing contractors are ready to provide you with Elite customer services and Elite roof systems.
Our expertise doesn't just end at roofing, either. Our expert roof technicians are an integral part of a licensed, bonded and insured construction company ready to build, repair or replace any part of your home or business today. Browse our wide range of services here, or check us out at Google to see how highly our customers rate our work.
We are proud to serve Colorado Springs with our excellent roofing services. Ready to see why the Elite Construction and Roofing process is the best in the business? Contact us via our website, or call us at (720) 477-6682 to receive a free roofing estimate today!