When a storm hits your home, the first thing you should do is to book an inspection visit from your local roofing and siding company. This is important even if you don't think your home has suffered any damage. A lot of the problems caused by inclement weather can remain invisible for long periods of time, surfacing only when they've already worsened and cost more to repair or replace.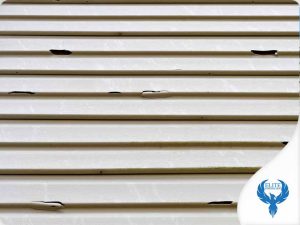 Identifying the most common types of damage your exterior can incur during a particularly bad storm can help you determine necessary steps to take to resolve these problems. Here are some ways our experts at Elite Construction & Roofing have seen storms damage people's exteriors.
Strong Winds
Your roof and siding are actually designed to withstand quite a bit of wind forces. It's when these strong gusts of air pick up debris and throw them around, can you expect a lot of impact damage on your exteriors. Sometimes, it may even lead to a premature window replacement. Once the weather calms down, walk around your property and note any signs of lifting from your siding boards.
Paint and Chipping Damage
In some siding products, chipping and cracking paint can be caused by exposure to the sun's harmful ultraviolet rays. This type of problem occurs over the course of years. However, excessive rainstorms can also peel away the paint or, in rare cases, cause discoloration. You can easily fix this issue by repainting the affected areas but they could be a symptom of a bigger problem underneath.
Dings and Dents
For metal siding, your siding contractor may find numerous dings and dents caused by the impact of hailstones. If you don't mind your aesthetics taking a hit, most dents are not serious enough to warrant a full replacement. You can avoid this, however, by choosing a different material such as fiber cement for your next siding installation.
Keep your siding and your exteriors protected against the elements with the help of our professionals at Elite Construction & Roofing. Give us a call at (720) 712-1870 or fill out our contact form to schedule an inspection and request a free estimate on siding repairs and replacement today. We serve homeowners in Golden, Thornton, Lakewood, and other surrounding areas in CO.