If you want the best results for your home improvement project, then you need to make sure to work with the right contractor. It's best if you choose an award-winning contractor like Elite Construction. We are one of the few GAF President's Club Award winners in the country. In today's article, Elite Construction, the top roofing and siding contractor in our local area, discusses the requirements for winning GAF's President's Club Award.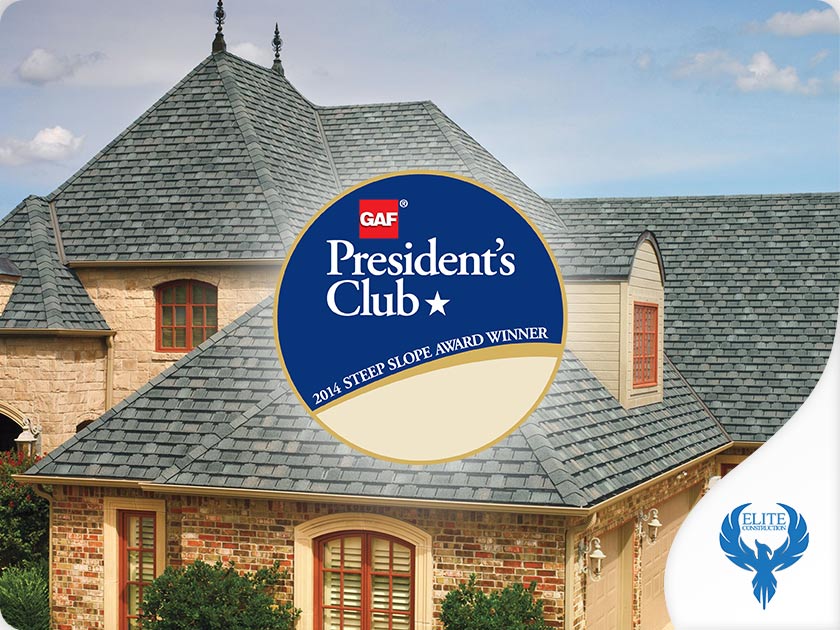 What Is the President's Club Award?
This award is only for GAF Master Elite® contractors. GAF Master Elite contractors are some of the best roofing contractors in the country. The requirements for earning this certification are so hard to achieve that only the top 2% of all roofing contractors in the country can qualify. Meanwhile, the President's Club Award is the highest level award that a GAF Master Elite contractor can earn in the GAF Certified Contractor Program. This means that GAF President's Club award winners like us are the best of the best.
What Are the Requirements?
Only Master Elite contractors that are in good standing can qualify for the President's Club Award. Qualifying contractors must also adhere to the requirements set forth in the Master Elite Program Agreement. Contractors must complete all qualifying activities during the calendar year. Roofing contractors that have multiple locations will earn the award for each unique location that conducts the qualifying activity. As the top roofing and siding company in our area, we have met all of these requirements.
What Are the Qualifying Pathways?
There are three pathways or different kinds of activities that can earn this award. The Performance pathway is for roofers that participate in activities that give their customers the best possible service, protection and quality. The Service pathway is for roofing contractors that keep offering their customers the best possible warranty protection. Finally, the Reliability pathway is for roofers that have a long history of offering their loyal customers with the best quality service and roof protection.
You can rely on our company for all of your roofing and window replacement needs. Elite Construction has been in business for many years and our team of experts have encountered and dealt with all kinds of home improvement problems. We have what it takes to make your home improvement project successful. We serve many areas in CO including Golden, Thornton and Lakewood. Call us at (720) 446-9633 to learn more about our services and products or to get a free estimate.