Decks installed by a professional exterior and roofing contractor should be able to withstand the build-up of ice and snow, but this doesn't mean you can be complacent about preparing your deck and exterior for winter. After all, frigid temperatures can be harsh on your deck, especially if it's made of wood.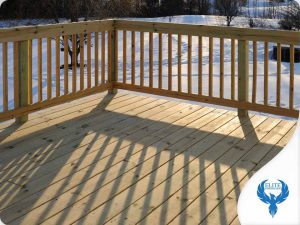 How do you prepare your deck for winter? It's recommended that you winterize your deck in fall—or after Thanksgiving at the latest—to minimize the impact of sub-zero temperatures on its surface.
Here are some tips on winterizing your deck:
Remove dirt and debris on your deck – Make sure there aren't any leaves and branches in the corners of your deck. Leaves, twigs, and other kinds of organic debris retain moisture, which promotes the growth of mold that can eat away parts of your wooden deck.
Trim overhanging branches – Strong winds can easily knock flimsy tree branches onto your deck, which is why you should trim them before they damage your deck.
Wash your deck – Power washers can make the task of removing stubborn grease stains and mildew a lot easier, but they shouldn't be used on older wooden decks. Use a bleach-free cleaner instead.
Apply sealant to your wooden deck – Unlike composite or vinyl decking, wood decking absorbs moisture, which is why sealant needs to be applied to its surface.
Why You Should Let Professionals Handle Deck Winterizing
Your wooden deck may have absorbed water over the years. Decks with excess moisture content are more vulnerable to rot and should be replaced before the start of winter. The problem is that identifying the deck boards that are most vulnerable to rot can be tricky, which is why it's best to have an exterior and roofing contractor inspect your deck before winter.
Looking for experienced exterior contractors near your area?
Elite Construction & Roofing is a local roofing company with more than 15 years worth of experience. We offer a wide range of professional exterior services, including roofing and siding services. To get a free estimate, call us at (720) 446-9633 or fill out this form. We serve homeowners in Lakewood, Thornton, and Westminster, CO, as well as the surrounding communities.