Looking For Home Remodeling Contractors Near Longmont?
What do you look for in a remodeling contractor? Every home remodeling company promises quality, but how can you be sure they will deliver? You want a remodeling company that is experienced and efficient.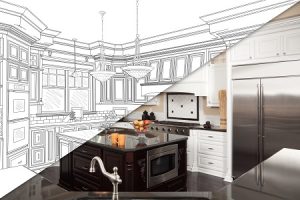 Experience gives a remodeling contractor the skills, so your remodeling experience goes smoothly from start to finish. Skilled remodeling contractors will build quality structures and provide detailed estimates. Efficiency is also crucial, as remodeling jobs can be painstakingly slow if your contractor lacks expertise or you have unforeseen construction complications. Remodeling contractors with good organization and time management skills complete tasks quickly and effectively without wasting money on costly remodeling mistakes.
Elite Construction & Roofing has been serving Longmont and the surrounding Northwestern Colorado area for over 15 years. Our popular services include construction projects for windows, siding, painting and more. We also specialize in roof repair, replacement and installation. There are no ballpark estimates here. As you can rest assured, Elite Construction calculates all project cost quotes based on square feet, quality materials and time to completion. Our remodeling contractors work diligently to a strict procedure, with organizational skills and extensive experience that will ensure your remodeling experience runs smoothly from beginning to end.
We Are The Professional Home Renovators You've Been Looking For!
Elite Construction renovates homes with a deft sense of our client's needs. We have over 50 years of combined experience and expertise to remodel your home with skill, efficiency and accuracy. When remodeling homes, we take into account the client's budget and ideas. Our remodeling contractors work in close conjunction with our clients to create a unique remodel that suits your taste and budget. We work with you to ensure the remodel is the best it can be for your home.
Before each remodeling project begins, we thoroughly assess your home to determine what must be met to produce quality results for remodeling. Any major renovation project is not without challenges. Still, when you hire Elite Construction as your Longmont renovation company, there will be no surprises or additional costs when it comes time to hand over the bill. You will have a model home courtesy of our professional services.
Experienced Window Replacement Company
Need a window replaced? Elite Construction & Roofing has you covered. We replace windows with beautiful and long-lasting materials, such as vinyl and aluminum. Modern windows are crucial to the remodeling process as they do more than just let light in and allow people inside to see outside. Today's models of windows are made with insulation properties in mind to ensure your home stays warm or cold as you need it.
Elite Construction & Roofing also offers storm windows and storm doors, perfect for winter months. Our replacement windows stand firm against wind, rain, snow and debris from outside elements. It is vital to consider these factors; remodeling is not complete unless it makes your life better. Storm windows fulfill that requirement by keeping the remodel firmly rooted in practicality.
Northern Colorado's Premier Roofing Company For Your Needs!
The essential part of any home is the roof. Without a solid cover, everything else in a home is open to the elements that would make a home pointless. You want a top that is secure, insulating and stylish. To that end, we have developed our strict quality standards to ensure any roof we touch is installed thoroughly and efficiently. As previously touted, Elite Construction & Roofing specializes in roof repair, replacement and installation. Our direct experience as roofing contractors has given us valuable insights into everyday practices, standard operating procedures, and building codes.
It's all about tradition, pride, excellent customer service, and craftsmanship at Elite Construction & Roofing. As a family-owned and operated construction company, we draw on years of industry experience to provide Longmont, CO, with expert roof repair and replacement services in addition to our remodeling, siding, painting and other services. Give us a call today for a FREE estimate at (720) 446-9633 or toll-free at (844) 538-9813. You can also fill out our contact form to get in touch with us, and we'll get back to you right away.