Quality Commercial Roof Installation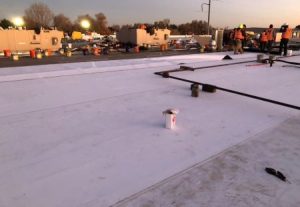 When it comes to roofing, trust the industry experts. We understand that roof installation is a big commitment, and you want to be sure everything is done right! That's why we are devoted to providing quality workmanship and excellent customer service every step of the way. With us, you can rest assured that your entire roofing structure will be taken care of with utmost diligence at competitive prices. Our team understands how important it is for homeowners to protect their property value, and we want our customers to feel confident in their decision. No matter if you need residential or commercial roofing services, we'll be there, ready to help get all your needs accomplished!
Replace Your Roof with New Efficient Options 
If your building's roof is over ten years old and is in need of maintenance or repair, it may be more efficient to replace the entire thing. We understand how discouraging this can be, so our experienced team of professionals will work with you to assess your property with a full roof inspection and evaluate efficient roofing replacements. Our primary goal is to provide you with a solution that best meets your needs. Furthermore, replacing your roof also provides an opportunity to upgrade – we offer various commercial roofing types that come equipped with energy-efficient options and high-profile shingles to give your property a fresh new look.
We Can Do Any Type of Commercial Roofing
To protect your commercial property, regular maintenance and necessary roof repairs are necessary. Durable roofs can be designed to last for decades, but only with regular maintenance and repair can they remain in good shape. Elite Construction & Roofing provides expert commercial roofers with the skills and knowledge to work on a range of roofing systems and materials, including TPO, EPDM, asphalt, tile, slate and more. Our commercially trained technicians provide top-quality workmanship at competitive prices, making us the company to call when it comes to repairing or replacing an old roof or installing a new one.
Roofing Contractors You Can Trust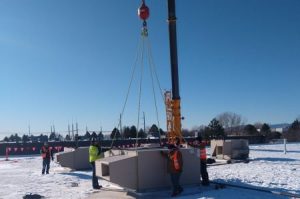 At our company, commercial clients can rest easy knowing that their safety and security are our number one priority. We understand the importance of properly installed commercial roofs, which is why we hire only expert roofing contractors with the knowledge and experience to handle any type of commercial roof project. Our team is also focused on providing you with beautiful results for your building project. We strive for outstanding results on every project by working closely with all commercial clients from start to finish, ensuring dependable service and clear communication at all times.
Let Us Install Your New Roof Today 
At Elite Construction, our commitment to delivering the best value in commercial restoration and new or remodeled construction is uncompromising. Our inspectors provide a free quote, and our experts deliver work that is consistently on schedule and at competitive prices. Every project receives the same level of attention to detail from our qualified professionals, and our owners always inspect each job to ensure our standards are met. With our expert teams taking care of everything from start to finish, we make sure your project is done right the first time – no matter how big or small. Elite Construction & Roofing provides top-notch quality, reliability and value for every project you entrust us with. Call us today to get your next commercial roofing project completed with the best in town!