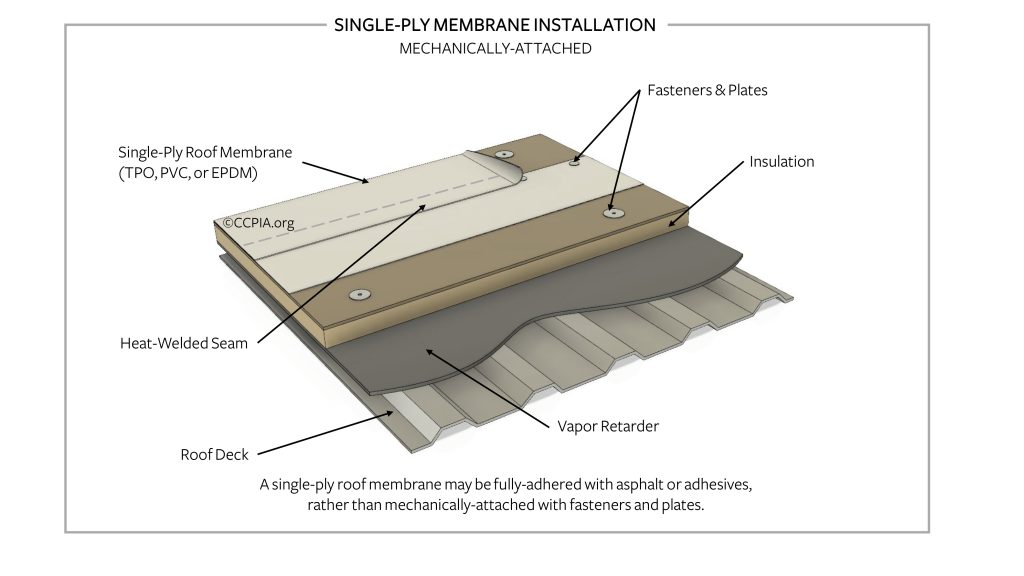 Single ply roofing is a type of roof made of a single membrane made of synthetic materials, including rubber and insulation. These materials are then put together using chemical adhesives and fasteners. They are also capable of being weighted down with ballast. For more information, see the following article. It will explain the basic features of single ply roofing. However, there are certain considerations to make before purchasing this type of roof, you should consult with your preferred roofing company Colorado Springs and choose the best Roofer for the job.
The cost of a single-ply roofing system varies considerably, depending on the type and size of the roof and other factors. When you're choosing a single-ply roofing system, it's important to understand the costs associated with each aspect. Single-ply roofing is highly durable and is naturally reflective, which makes it an excellent choice in a variety of weather conditions. However, you should seek professional assistance for installation.
Depending on the material used, single-ply roofing systems can be fully adhered or mechanically attached to the roof. Depending on the installation method chosen, the manufacturer may recommend an asphalt-based or water-based adhesive for the single-ply membrane. This type of roofing may also be coupled with colored membrane materials for a more aesthetic appeal. You can choose between single-ply roofs that are partially or fully adhered to the roof.
Single-ply roofing systems are popular flat roofs. Thermoplastic polyolefin (TPO) roofs can protect your building against acid rain and acidic outflow. Single- ply roofing systems are considered to be more environmentally friendly than other industrial roofing materials in the production, lifespan and ability to be recycled. Thermoplastic polyethylene is also considered the most environmentally friendly type of roofing material.
Single-ply roof systems are made of thermoplastic or thermoset membranes. Thermoset roofing systems have a wider range of materials than thermoplastic membranes, such as fiberglass. Thermoset membranes are flexible and UV resistant. They can be glued or mechanically fastened and can be installed directly onto your roof insulation. Thermoset roofing systems also have a better UV ray reflectivity.
One of the biggest advantages of EPDM roofing is its ability to be recycled. After installation, EPDM roofing can be easily recycled and won't end up in a landfill. EPDM roofing has a long lifespan and can be reused to make other products. The cost of EPDM single-ply roofing is comparable to that of PVC or TPO roofing. The biggest downside to this type of roofing is its price.
Single-ply roofing is most popular for commercial properties. Elite Roofing & Construction installs TPO and EPDM roofing on commercial buildings. Single-ply roofing systems are easier to install and have less maintenance. Single-ply roofing is also a popular choice for homes because of its ease of installation and affordability. The advantages of single-ply roofing are numerous. The following are the three most common types.
EPDM Roofing – EPDM single-ply roofs have minimal seams and are perfect for low sloped roofs. Unlike asphaltic rolled roofing systems, EPDM has very few seams and requires no hot asphalt to be applied to it. EPDM is also a very durable material, available in black, and in various widths. Single-ply roofing can be mechanically applied or ballasted to several system assemblies. It is eco-friendly and recyclable.
Make sure that when you want to get a Single-ply roofing system you should find the best Colorado Springs roofing company.